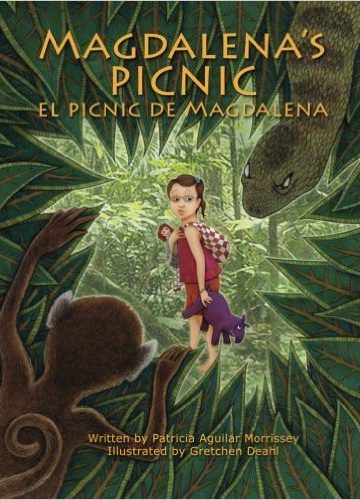 $9.99
Publisher:

Wednesday Night Press

Available in:

Paperback, eBook

ISBN:

978-0-9973146-0-1

Published:

May 19, 2016
Buy Here
Magdalena's Picnic – El picnic de Magdalena, explores a young child's imagination as it takes her to a faraway place—the Amazon jungle—without leaving her backyard. The main character in the book, the one fearlessly leading the group ahead, is a girl named Magdalena. She is clearly a role model for young adventurers as she dodges dangers, makes bold choices, and finally, leads her group to its destination. Author Patricia Aguilar Morrissey and illustrator Gretchen Deahl have collaborated on every page of this book to transplant the reader into the Amazon jungle. Every character, plant, and animal was carefully researched to represent the true nature of the Amazon. This story for young readers can be used for its obvious benefits of learning to read Spanish or English but also as a teaching tool for the Amazon jungle and its inhabitants. The story finishes with a personal letter from the author that gently guides the reader to consciousness of the Amazon rainforest, its prized possessions, and our need to protect it.
El picnic de Magdalena, explora la imaginación de una niña que la lleva a la selva del Amazonas sin salir del jardín de su casa. Magdalena, una líder valiente y emprendedora, es un modelo para jóvenes aventureros mientras evita peligros, toma decisiones difíciles y, finalmente, lleva a su grupo a su destino. La autora Patricia Aguilar Morrissey y la ilustradora Gretchen Deahl han colaborado en esta divertida aventura y el producto final es un libro encantador con dibujos maravillosos de importantes personajes de la selva amazónica. Al final del libro la autora, través de una carta personal a los lectores, anima a los jóvenes a cuidar esta maravillosa región.  
Author Interview
Editorial Reviews
From School Library Journal
BLK-Gr 2—This is the story of a girl who goes on a picnic in the Amazon jungle with her friends, a purple tapir named Junior and a lively doll named Brigitte. As they search for the perfect lunch spot, Magdalena and her friends come across an array of animals, from swinging monkeys to bright macaws. As they travel, they encounter some of the dangers of the dark and mysterious jungle. Magdalena must act quickly when Junior is caught by a carnivorous plant, Brigitte is ensnared by a large anaconda, and they come face to face with a jaguar. When the big cat is revealed to be Magdalena's brother in disguise, the girl's imagination brings readers back to her backyard, where the adventure was taking place. Children will see the water hose that was the slithery anaconda and the sprinkler that became a waterfall. As Magdalena and her friends enjoy their picnic at last, readers realize the power of imagination. The colorful illustrations bring the jungle and its inhabitants to life. Informative background information about the Amazon jungle and the animals Magdalena and her friends encounter accompanies the book, and will help to encourage tomorrow's adults to help conserve this part of the wild. VERDICT A great choice to inspire young readers to use their imagination, to learn, and to help build a better tomorrow. —Selenia Paz, Helen Hall Library, League City, TX
From Amazon.com
Bilingual and Multicultural – a winning combination
By A Wong on December 22, 2014
Format: Paperback
The brilliance of this book is to take an everyday adventure – something that children of any culture can immerse themselves in – and tell it in both Spanish and English. No artifice here. The Spanish vocabulary – and indeed, the English vocabulary – is natural and unforced. The beautiful illustrations highlight the tension in the story. This is a book that spans cultures, and reassures us of the commonalities in our lives
From Frog on a Blog
This sweetly illustrated, bilingual (English/Spanish) picture book is overflowing with action, adventure, and fun. Magdalena and her two pals, Brigitte and Junior, set off into the Amazon jungle to find the perfect picnic spot. As they move through the jungle, they encounter chatty monkeys, carnivorous plants, dark caves, and a dangerous anaconda. When Magdalena's friends are in danger, she jumps into action, bravely saving them from certain doom. But what happens when the trio meets face-to-face with a ferocious jaguar? 
Magdalena's Picnic is filled with edge-of-your-seat action, with danger around every bend. And all of it comes from Magdalena's wild imagination. This book does an excellent job of reflecting how real children play and imagine the world around them. In a child's world, a sprinkler can be a waterfall, a garden hose can be a snake, and that dark, damp area under the porch can be a cave. And a child can be the hero in her own story. 
At the back of the book, the author has included some information about the Amazon jungle and the animals that can be found there. The book's a great choice for Spanish and English speakers, ages 4-8.  
From The Daily Astorian
Writes the author:
"My books focus on adventures, South American cultures, and using your imagination," Patricia, who grew up in Lima, Peru, writes on her Facebook page (http://tinyurl.com/FacebookPAM). "I believe in writing bilingual English-Spanish children's books that push a child's imagination to its limits."
"All children have an inherent role-playing ability and my goal is to encourage this quality through my stories," she explained. "I also strongly feel that children exposed to different cultures and languages develop into sensitive and well-rounded adults. My stories develop in faraway places and in different cultural settings, where my characters are always ready for adventure."