There are few times when I read a book and, after I finish it, I immediately read it again. Lulu Delacre's Olinguito, from A to Z is a book to read over again just to enjoy the rhythm of the language and to delight at the beautiful illustrations. My favorite page: A lizard lies on lichen, tanagers line the vines, and the lightest drizzle… allows  me to see the low clouds engulfing the resting lizard and the perched tanagers.   The illustrations are collages of the Andean cloud forest.  
This book celebrates the discovery of the olinguito, a new carnivore species that lives in the Andean cloud forest of Colombia and Ecuador.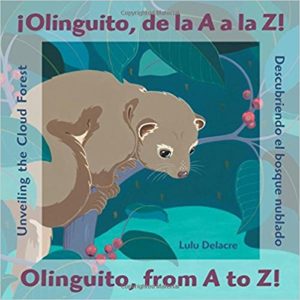 Pocas veces leo un libro y cuando lo termino lo vuelvo a leer. ¡Olinguito, de la A a la Z! es un libro para leer varias veces y disfrutar del ritmo del lenguaje así como para deleitarse con las hermosas ilustraciones. Mi página favorita: Lagartija sobre liquen, loritos en las lianas y llovizna leve, leve… me imagino las nubes bajas envolviendo a la lagartija mientras descansa y a los loritos en las lianas. El bosque nublado andino está ilustrado por medio de collage. 
Este libro celebra el descubrimiento del olinguito, una nueve especie de carnívoro que vive en los bosques nublados de Colombia y Ecuador.