My Friend Tomás is finally here! This is a sweet story about two boys with different backgrounds that have many things in common. Follow these boys as they play, build a fort, share a meal and do their school work together. The text is embedded with Spanish words and phrases that are easy to understand plus, there is a handy glossary at the end of the book. Artist Christine Karron provides beautiful illustrations that make the book come alive.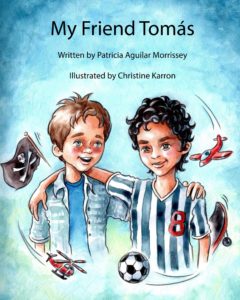 A perfect read to shows that differences in culture and language are no match for true friendship and acceptance. 
¡Ya salió My Friend Tomás! Este es un cuento dulce acerca de dos niños muy diferentes que tienen muchas cosas en común. Siga a estos chicos durante un día donde comparten sus juegos, comidas y tareas escolares. En el texto encontrará inglés y español y un glosario en las últimas páginas. La artista Christine Karron ilustra este libro con acuarelas excepcionales. 
Un libro perfecto para demostrar que las diferencias culturales y de lenguaje no pueden competir con la aceptación y amistad verdaderas.