Finding the Music / En pos de la música
Author:  Jennifer Torres. Illustrator: Renato Alarcão.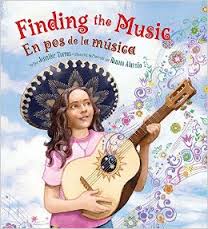 What a sweet story! A young girl accidentally damages her grandfather's vihuela (a guitar like instrument) and goes around town trying to find somebody to fix it. As she talks to other community members she learns about her grandfather and his music. This book is the Lee & Low's New Voices Award winner.
Another great 2015 bilingual book for children. 
¡Qué cuento tan dulce! Una muchachita daña la vihuela de su abuelo sin querer y luego, camina por el pueblo tratando de encontrar a alguien que pueda arreglarla. Mientras habla con otros miembros de la comunidad descubre cómo era su abuelo y la música que tocaba. Este libro gano el premio New Voices de Lee & Low. 
Otro maravilloso libro bilingüe del 2015 para niños.