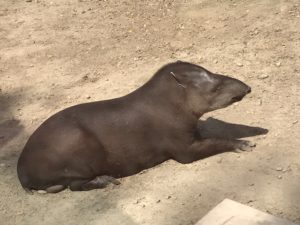 Hello Junior, this is your cousin the Lowland Tapir also known as a South American Tapir. I am the largest mammal walking the Amazon rain forest. I also have a crest that runs from the top of my head to my neck and then blends into my beautiful dark brown coat. I live in most of the South American countries that are part of the Amazon basin.
I wake up in the morning and like to wade in the mud by the river to keep the flies and skin parasites away. I am very careful and I am good at hiding. We tapirs always keep away from   anacondas. Those boas are huge and I don't want them close to me. Oh, I love to swim and I am pretty good at it!                                                   
Here I am relaxing in the sun:  tapires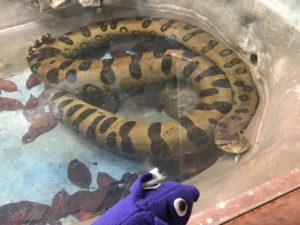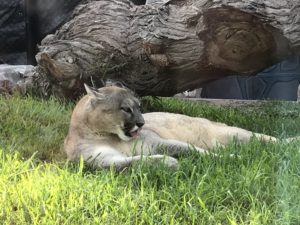 In the evening, my activities start. I walk down old tapir paths created by tapirs looking for fruits and vegetables. I munch on roots that I dig out with my 4 front claws and then I eat leaves, stems and flowers; I am a vegetarian. When I am full I take a little nap making sure there are no jaguars or puma close by. Even though I can reach 550 lbs. these big cats scare me. 
Hola Junior, soy tu primo, un Tapir Amazónico o Danta. 
Soy el mamífero más grande que camina por la amazonía. Tengo una cresta que baja de mi cabeza hasta mi cuello y luego desaparece en mi lindo lomo marrón oscuro. Vivo en muchos de los países que son parte de la cuenca del Amazonas. 
Me levanto en la mañana y me gusta revolcarme en el lodo a orillas de los ríos para protegerme de los mosquitos y los parásitos de la piel. Tengo mucho cuidado y puedo esconderme muy bien. Nosotros los tapires siempre nos mantenemos alejados de las anacondas. Esas boas son enormes y no me gusta que estén cerca de mí. Ah, me encanta nadar y ¡nado muy bien!  
En la tarde, comienzan mis actividades. Camino por viejos senderos creados por  tapires y busco plantas y vegetales. Mastico raíces que desentierro con mis 4 garras delanteras y luego como hojas, tallos y flores; soy vegetariano. Cuando termino de comer, tomo una siestita asegurándome que no haya jaguares ni pumas cerca.  Aunque llego a pesar 250 kilos, esos gatos me asustan.