Well, I am proud to say, that I climbed to the top, la cima, of Mt. St. Helens in the State of Washington.  As a Mother's Day present my son, daughter and son in law, encouraged me, helped me with my back pack, carried my water, etc. until I slogged to the rim of this beautiful volcano. So, new word for Spanish learners: cima or top. As in … "La cima de Mt. St. Helens es muy bella"!
Bueno, tengo que contarles que gracias a mi hijo, mi hija y mi yerno llegué a la cima de Mt. St. Helens. !Qué gran regalo para el Día de la Madre!
Y, ¿ s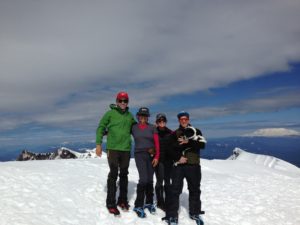 abían ustedes que la palabra cima viene del latín cyma que quiere decir "lo más alto?"  La palabra cimarrón se deriva también de la palabra cima – y se refiere a los animales salvajes o a los domésticos que huyen a lo más alto de los parajes silvestres o de las montañas. De allí viene el nombre en español para el "bighorn sheep": Borrego cimarrón.