Just to let you know that Perú has one of the best and diverse foods there are. There are typical foods from the dry coast, others from the high Andes and very special ones from the Amazon region.
Here is a sample: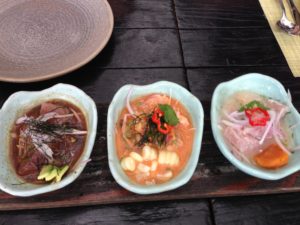 Cebiche sampler (coastal food)
Una muestra de cebiche (costa)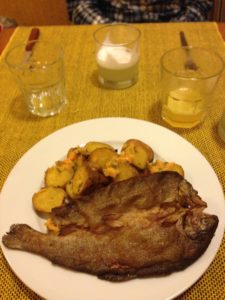 Trout and potatoes from the highlands
Trucha y papas de los Andes
Juane: yucca or rice and herbs wrapped in bijao leaves from the Amazonian region.  
Un juane: yuca o arroz con hierbas – envuelto en hojas de bijao.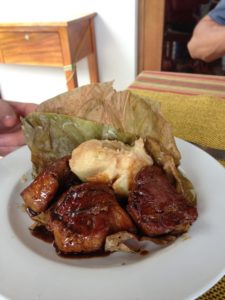 And… today I leave for the Amazonian region of Peru. That means, I will be in my own habitat!  Off to Cocachimbo…
Y… hoy salgo para la Amazonía. Eso quiere decir que voy a estar en ¡mi propio habitat! Nos vamos a Cocachimbo…