My Friend Tomás 
My new bilingual book My Friend Tomás is almost here!
I am hoping that in a few days it will be available to all. It is a book about friendship; about how similarities are stronger that differences. This gentle book is illustrated by Christine Karron's beautiful watercolor images.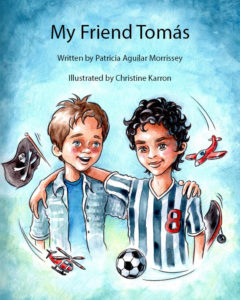 My Friend Tomás is a language embedded book with Spanish words interspersed in the dialog. It is a fun read for both Spanish and English speakers. Enjoy!
Mi nuevo libro My Friend Tomás ¡ya casi está aquí!
Las ilustraciones son hermosas acuarelas por la artista canadiense Christine Karron. 
Este es un libro acerca de la amistad de dos niños de culturas distintas pero que comparten muchísimo en común.  Es un libro tranquilo en donde las palabras en español se mezclan con el diálogo en inglés. Es una lectura divertida para hispanohablantes así como para aquellos que aprenden español. ¡Disfrútenlo!